Pungo Creek Mills' Heirloom Corn is a blast from the past
Pungo Creek Mills is all about embracing history. Grown by brothers Bill and Bob Savage using a 1935 stone mill, an old-fashioned corn picker, and an antique tractor, Pungo Creek Mills grows a unique corn variety that has been in Virginia's Tidewater region since 1870.
Pungo Creek's owner, Bill Savage, came across the corn that would launch his business venture by chance in 2007. He was working on a building project for Accomack County, on the eastern side of the Chesapeake Bay, when he knocked on the door of a man to tell him that they needed to put a culvert on his property. As he was talking to the homeowner, Bill noticed a small field of 12-foot-tall, multicolored corn growing in the man's yard.
"I had never seen corn grow like that," Bill says. "And then he started telling me this story."
The owner explained that his family had been growing that corn since the 1870s — it was an old heirloom variety that had even deeper roots in the Blue Ridge Mountains. His family had ground the corn in the mill that they owned and operated a quarter mile from the house. While the mill is now in ruins — Bill has visited its foundation — the corn is still growing proudly 150 years later.
The owner ended up selling Bill a bushel for $10, which he planted the next spring and harvested.
"I ended up with about 50 rows," Bill says. "I didn't have a picker at the time, so I had to hand-pick." A hard feat, especially with the tall stalks.
"I honestly felt like Jack and the Beanstalk," he says. "Corn just doesn't grow that tall, not anymore!"
At first, Bill tried to sell the corn as decorative wreaths, but couldn't find buyers in a market flooded with cheaper, commercially-made ones. He decided to try something else.
"Initially, I had no thought of the mill. I just thought of making some decorative corn, thinking it would sell like crazy for fall decorations. And yeah, we sold a few but I didn't make any money," Bill says. "So we decided to shell it and grind it — and discovered the flavor behind it."
Bill ground the corn in his 1930s feed mill to produce a crude cornmeal, and noticed it that the result had a unique texture and aroma, so he baked it into cornbread. It was the best that Bill had ever had, with a distinct body and flavor different from other cornbread. It ended up being perfect grits too, and Bill knew he had to share it with people.
And so Pungo Creek Mills was born. With the help of his brother Bob, they sell the heirloom cornmeal all over Virginia, including Whole Foods and popular tourist destinations like Jamestown and Yorktown. But now they also work with maltsters and distillers to incorporate the historic and regionally-significant corn into beer and liquor.
"Overall, it's been an adventure," Bill says.
It was through Benchtop Brewery in Virginia Beach that he first got connected with Epiphany Craft Malt. The brewery reached out to Bill about partnering with Pungo Creek Mills and Epiphany to produce a corn-based beer. It's now in the works — Bill just planted the corn in early May.
Bill has had beer made with his corn before from Black Narrows Brewing on Chincoteague Island in Virginia. He's also sampled moonshine and bourbon made from his heirloom crop.
"It has a unique flavor, which is very good," he says. "I feel like we're making a good product that people can enjoy whether they're eating it or whether they're drinking it. And in the end, that's all you can ask for."
Part of the reason for Bill's popularity in the brewing and distilling world is that his grain is rooted in tradition — not just in the kernels themselves, but in the way that they're harvested. Bill already had a knack for working with his hands, a good trait to have considering he uses antique farm equipment to tend to his crops. He appreciates the "rugged simplicity" of old-fashioned farm equipment. He also has a Ford Model A car that he takes out for a drive sometimes.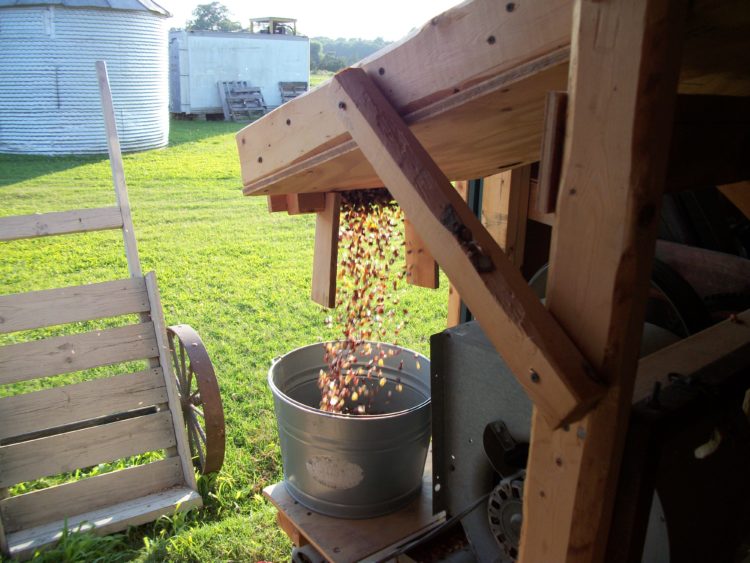 "It's based on earlier, simpler ideas," Bill says. "And the thing about it is you don't have to worry about all the computer stuff breaking down. If something breaks, I just fix it or I build a part."
As it turns out, Bill's choice of using antique equipment rather than more modern stuff isn't aesthetic — it's economic. Since the corn isn't a conventional variety, the farming process is just different enough that it's hard to plant and harvest with modern equipment.
"We're sort of forced to use antique equipment because we're working with this antique grain. They go hand in hand," Bill says.
But Bill wasn't just growing heirloom corn with antique equipment — he was also working on historic ground. After a barbecue and "plow day" with the local antique tractor club in the spring of 2013, Bill's brother decided to go out into the fields with a metal detector in hopes of finding a coin or two.
Bob found much more than a coin — instead he found the remnants of a 17th century tobacco plantation.
"We pulled over ten cases of artifacts from that cornfield," Bill wrote in an email. "We have three cultures represented on the site. Native American village, African American servants and an early English plantation settlement."
Their research indicated that the artifacts belonged to the family of Richard Kellam who, by chance, was Bill and Bob's 12-times great grandfather. That discovery forever changed the way they viewed the farm's heritage.
The corn is just now being planted for harvest in the fall. Then Bill and Bob will pick the corn and ship it down to Epiphany for malting. And then after we work our magic, it will go back to Virginia, ready to be made into a beer intimately connected to its state's history.